Call of the Wild!!! - Legacy of Discord's New Update
Legacy
of Discord
invites you to embark on a new adventure in a mysterious and untamed land of danger and riches! In update version, you can find vast treasures and battle to their heart's content in an open PvP area known as the Untamed Wilds. Experience the epic free to play action RPG game on your mobile device now!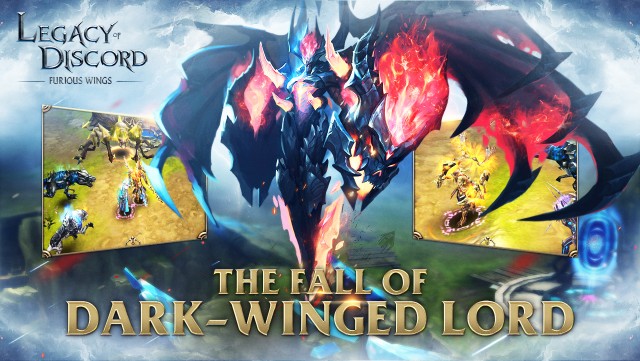 Update includes:
. New Area: The Untamed Wilds
. New Adventure: World Boss
. New Adventure: Scenarios
. Treasure Hunt
. New Guild Task: Guild Escort
. New Event: Monster Hunter
The Untamed Wilds - A living and breathing world of danger and riches
The Untamed Wilds area is open the entire day for Guardians to test themselves and earn great riches. The new adventure World Boss, Scenarios, and Guild Escort all take place in the Untamed Wilds.
World Boss - The Fallen Dark-winged Lord
"Wicked monstrosities have descended upon us! Hadell is summoning thousands of warriors to slay them!"
Different Monster Bosses will show up in the Untamed Wilds each day at certain times. World bosses are extremely strong, and Guardians from the an entire server must work together to take down these raid-level monstrosities. Rewards will be offered to Guardians and Guilds according to the amount of damage they can inflict. Among the many bosses, a special boss called the Dark-winged Lord possesses the power to repel guilds, thus Guardians will have to fight alone to defeat it and earn the greatest rewards.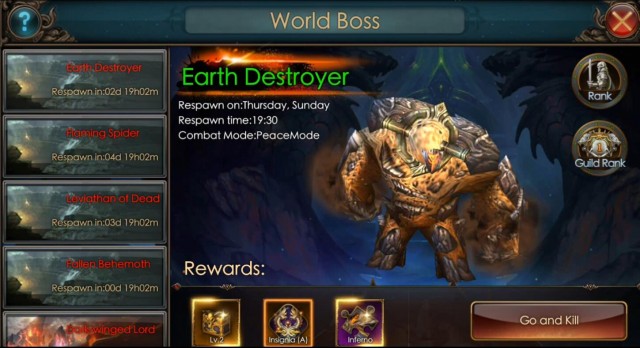 Scenarios and Artifacts – Complete special quests to get unique materials to enhance new Artifacts. Players that reach level 34 will unlock Artifacts to empower themselves (access Artifacts from the Character interface). These holy items of power can greatly increase your Battle Rating. Scenarios consist of 30 smaller quests that offers many materials to upgrade your Artifacts.
Guild Escort – Protect the treasures of your Guild
Celestial City is sending supplies to guilds every day and guild members must enter the Untamed Wilds to protect their goods from thieves. The Guild leader will start the Guild Escort at a time of their choosing, and then an elephant carrying valuable goods will travel from a location to the unloading station. Guild members must protect their precious cargo from monsters and even other Guardians!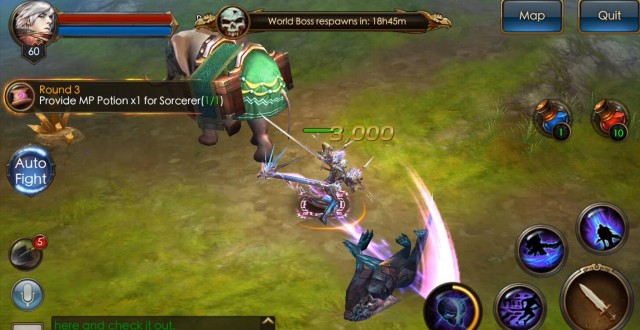 In the new Monster Hunter event, players will face off against a horde of powerful monsters. By using special hunting vouchers or with Diamonds, players can challenge these monsters of increasing difficulty for great rewards. How many monsters can you hunt? The monsters themselves will drop items and players will earn points that can be used to buy items. Killing specific level monsters will also earn special server rewards.
Play Legacy of Discord now and experience all-new content including the new open PvP area, the Untamed Wilds! Don't miss the best free to play action RPG on mobile!
Additional Information:
Play Legacy of Discord - Furious Wings absolutely free visiting the following link:http://lod.gtarcade.com/
For the latest news and updates, follow Legacy of Discord – Furious Wings athttps://www.facebook.com/LegacyOfDiscordFW and visit the forums at:http://community.gtarcade.com/forum.php?gid=3098
Share to: