Legacy of Discord Limited Release Expands To 108 Countries
Back in September, we've announced the release of the brand new mobile game Legacy of Discord - Furious Wings in the Philippines. Two weeks following its initial release, our game was being made available in Canada. Since the game continues to be in high demand by players all over the world, we have decided to continue improving the game through various updates while getting it ready to be released in more countries!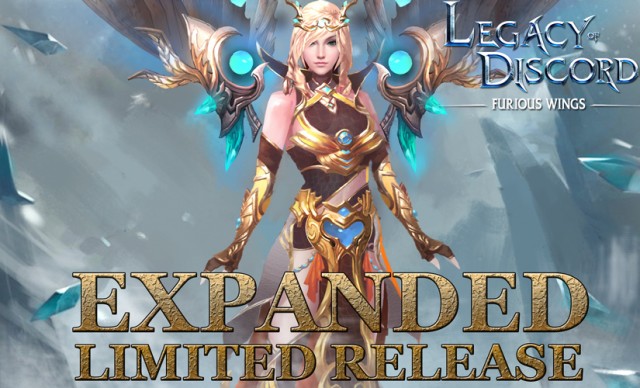 Players from Canada, Africa, middle East and India, Latin America and Carribean, and most Asia Pasific can download the game on both App Store and Google Play now! Check the following list for the 108 official launched areas of Legacy of Discord!

The United States and Canada

Canada

Africa, the Middle East, and India

Algeria
Angola
Armenia
Azerbaijan
Bahrain
Benin
Botswana
Burkina Faso
Cape Verde
Egypt
Gambia
Ghana
Guinea-Bissau
India
Israel
Jordan
Kenya
Kuwait
Lebanon
Malawi
Mozambique
Namibia
Niger
Nigeria
Oman
Qatar
Sao Tome & Principe
Saudi Arabia
Senegal
Seychelles
Sierra Leone
South Africa
Swaziland
Tanzania
Tunisia
United Arab Emirates
Uganda
Yemen
Zimbabwe

Asia Pacific

Australia
Bhutan
Brunei
Cambodia
Fiji
Kazakhstan
Indonesia
Kyrgyzstan
Laos
Mongolia
Malaysia
Micronesia
Pakistan
Nepal
New Zealand
Philippines
Palau
Papua New Guinea
Sri Lanka
Singapore
Solomon Islands
Philippines
Turkmenistan
Tajikistan
Sri Lanka
Uzbekistan

Latin America and the Caribbean

Anguilla
Antigua & Barbuda
Argentina
Bahamas
Barbados
Belize
Bermuda
Bolivia
Brazil
Virgin Islands
Cayman Islands
Chile
Columbia
Costa Rica
Dominica
Dominican Republic
Ecuador
El Salvador
Grenada
Guatemala
Guyana
Honduras
Jamaica
Mexico
Montserrat
Nicaragua
Panama
Paraguay
Peru
St. Kitts & Nevis
St. Lucia
St. Vincent & The Grenadines
Suriname
Trinidad & Tobago
Turks & Caicos
Uruguay
Venezuela


During the expanded limited release period, players are welcome to send us feedbacks about all aspects of the game. Developers of the game will keep improving the gameplay experience, and providing better support as well.
We wants to thank all their fans! The developer team is learning and improving. Stay tuned for more details!
Additional Information:
Try out Legacy of Discord – Furious Wings by visiting the following link:
http://lod.gtarcade.com/
For the latest news and updates, follow Legacy of Discord – Furious Wings at
https://www.facebook.com/LegacyOfDiscordFW
and check out the forums at:
http://community.gtarcade.com/forum.php?gid=3098
Share to: