New Update Comes with Skyfall Battle and SkyWing Awaken
Legacy of Discord will release its new update adding Skyfall Battle, SkyWing Awaken and more improvements to the game! A new cross-server aerial GVG battle balanced by Skywings with your guild members is coming for all players. Read on to know more!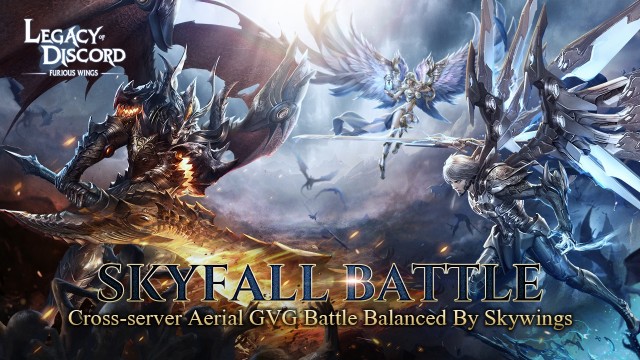 Update Content:
- SkyWing Awaken
- Skyfall Battle
- New Announcement interface UI
Update Date:
02:00-04:00 August 28th EST
14:00-16:00 August 28th HKT
08:00-10:00 August 28th EU
SkyWing Awaken
SkyWing Awaken can be unlocked at level 50 and sit on the bottom right of the main interface, where you can socket Sky Emblem to your SkyWing! A SkyWing's Awakened state is divided into 4 stages: Bronze, silver, Gold and Crimson. Upgrade your Awaken rank to gain more attributes, unlock more sockets and unique trail effects.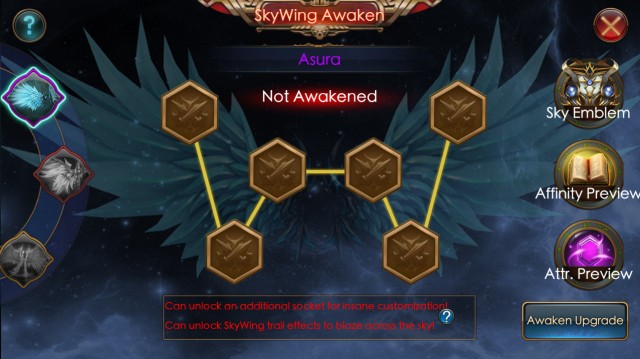 Sky Emblem: Sky Emblems are obtained by identifying Emblem Gemstones and can be socked into SkyWings, which will increase your attributes and BR. Emblems can be Reforged and Refined. Extra Emblems can be Salvaged into Emblem Essences, which can be used to buy items in the Emblem Shop. Sky Emblem is divided into Blue, Green, Purple, Orange and Red Sky Emblem, and special skills will be unlocked if you obtain the Orange and Red Sky Emblem. Create the perfect Emblem to maximize your effectiveness in combat!
Emblem Reforge: Players can select Reforge Attr. to change an Emblem's attribute. And can select Reforge Value to change the amount that attributes provide (but not the attribute type). Items needed to Reforge can be obtained from the Emblem Shop by exchanging Emblem Essence.
Emblem Refine: Players can Refine Emblems to upgrade their quality. This will not change attributes. You need Sky Soul and Woven Feather to upgrade Emblem.Items needed to Refine can be obtained from the Emblem Shop by exchanging Emblem Essence and Skyfall Battle.
Emblem Salvage: Bulk Salvage will salvage all Emblems of a specified quality.
Identify Emblem: Identify Emblem Gemstones to discover Emblems of random attributes.
Skyfall Battle
Skyfall Battle is available at Lv.50 and requires at least 1 activated SkyWing to participate.
Players can form teams of up to 5 players to begin matching. Players will be matched according to their points and teams according to their averaged points. A Skyfall Battle match supports up to 40 players (20 vs 20). And event is open daily from 5:00PM-11:00PM.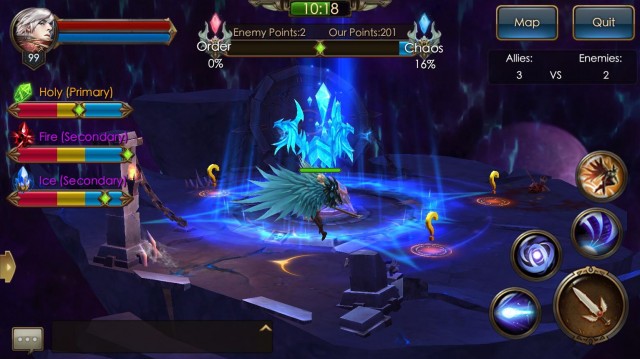 Each week will count as a season. Each season has 4 Rankings: MVP ranking, Kill ranking, Death ranking, and Gather ranking. The Kill ranking is a points ranking and each kill gives 4 points (higher VIP will earn more points per kill). The rankings for each season will be calculated Sunday at 11:23PM, and rank rewards will be mailed to players around that time. All season data will be reset on Sunday at 11:30PM.
BR Balancing: The base attributes of all players will be the same before Skyfall Battle begins. Any activated SkyWing quality will increase all attributes for all allied players. In battle, your Enhance lv. will affect your attribute bonus. Sky Emblem attributes will contribute to your attributes in Skyfall Battle. The higher the Emblem quality, the greater the bonus.
New Announcement UI
We've prepared a new Announcement UI with localized languages for all players. You will know on August 28th.
Additional Information:
Try out Legacy of Discord – Furious Wings by visiting the following link: →http://lod.gtarcade.com/
For the latest news and updates, follow Legacy of Discord – Furious Wings at
→https://www.facebook.com/LegacyOfDiscordFW
and check out the forums at:
→http://community.gtarcade.com/forum.php?gid=3098
Share to: