Firework Festival - Winter is Gone! Let's Party On!
LoD has been blazing the charts since its release four months ago. The acclaimed multiplayer action RPG has been breaking all expectations and that's all thanks to the fans. After just receiving a huge update with tons of new content, we will offer some fantastic events in this March!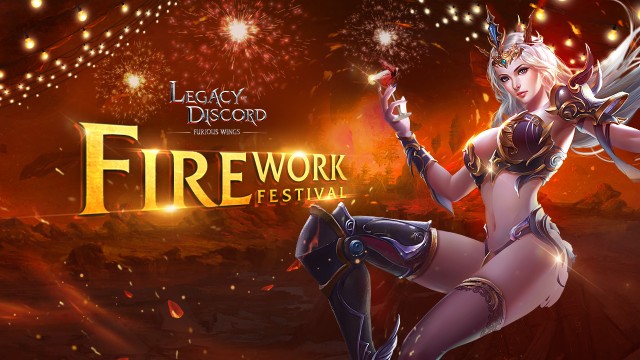 The Firework Event: 3.10-3.16
Login Bonus:
Log in every day during Event period to collect rewards from the Event page.
Special Titles:
During the Firework Events, after launching of them, you will earn a special title. Once the server launches enough fireworks, every player will be rewarded.
Mystic Chest Festival:
available daily at 12:00~14:00 and 17:00~19:00 at server time during festival. Don't miss out! Blow up chests to get great rewards. During Event period, clear main quests to get Firework Tokens, which can be used to exchange great rewards from the shop!
During the event time, we will offer a great discount on the new fashions Celestial Heart, Royal Assassin, and Heavy Metal for limited days.
Participate in various community events and share your festival memories to gain special rewards! Please stay tuned for more news regarding Legacy of Discord – Furious Wings on the official Facebook page and website.
Additional Information:
Try out Legacy of Discord – Furious Wings by visiting the following link:
http://lod.gtarcade.com/
For the latest news and updates, follow Legacy of Discord – Furious Wings at
https://www.facebook.com/LegacyOfDiscordFW
and check out the forums at:
http://community.gtarcade.com/forum.php?gid=3098
Share to: