World Royale Finally Comes to All Servers
Legacy of Discord has a massive new PvP update for you to check out! An exciting new Nation-based PVP mode called World Royale finally comes to all servers! World Royale gives everyone the chance to clash in epic battles while representing your nation to determine which Kingdoms are the best of the best. It's time to fight for your country and kin! Read on to learn more!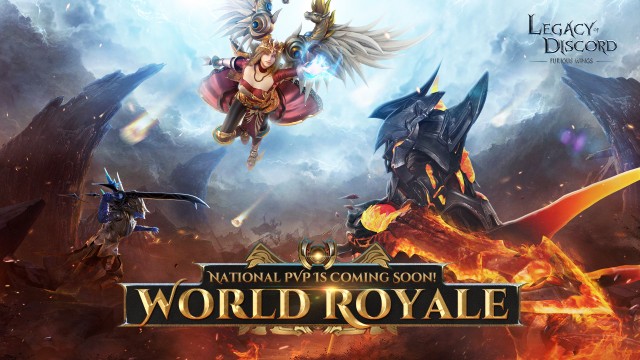 Rules for World Royale
There's 3 tournaments in the World Royale: War of Heaven, War of Earth, and War of Mortals. Each of the 3 tournaments will crown their own World Champion.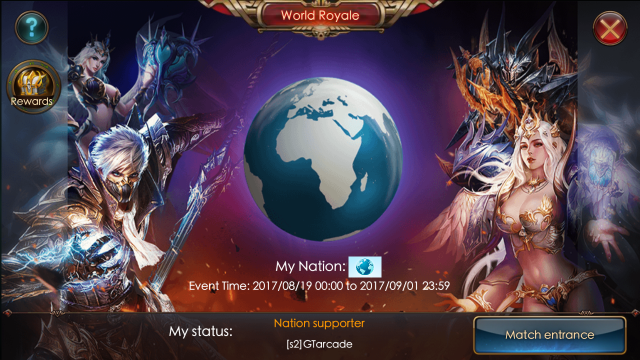 [Stage 1] Sign-up Stage (Days 1-3)
- The first 3 days of the event is the Sign-up Stage. Players must be Lv.70 or above to sign up.
- After the sign-up stage ends, all players on the server will be unable to change their Nationality for the duration of the event.
[Stage 2] Preparation (Day 4)
- A nation must have at least 30 players signed up under it to qualify for World Royale. If there are more than 30 players, the system will select 30 players with the highest BR to represent their nation. These players will be split into 3 divisions: War of Heaven (#1-10 BR), War of Earth (#11-20 BR), and War of Mortals (#21-30 BR).
- During the Preparation phase, players can check the competing Nations, players, and Qualifier groups.
[Stage 3] Qualifiers (Days 5-6)
- During the Qualifiers, the team in first place (most wins) in each group will advance. If multiple teams win the same number of times, the team that earned the most points will advance.
- 3 matches will take place each day.
- The top 32 teams will advance to the next stage.
[Stage 4] Group Stage (Days 7-8)
- Up to 32 teams will be divided into 8 groups. The top 2 in each group will advance.
- During the Group Stage, 3 matches will take place each day.
- When Group Stage ends, up to 16 of the top teams will advance to the next round.
[Stage 5] Finals Elimination (Days 9-12)
16 teams will be split into 2 brackets and compete in best-of-1 elimination battles until a final Champion is crowned.
Tips:
- When a match starts, players have 3 minutes to enter (through system prompt or event panel). Players will no longer be able to enter after 3 minutes are up.
- Matches adopt the same match rules as "Battle Royale". The difference in points at the end of a match will determine how many points are earned for rankings. Try to extend your lead in points during a match to maximize ranking points.
- If a match begins and 1 side fails to join, the other side will be the winner. If both sides fail to join, the winner will be determined by highest BR.
Rewards for World Royale
The winners will get the special title "World Champion" and Advanced Pet Vouchers. All three tournaments will have separate ranking rewards, MVP rewards and country rewards for the Heaven, Earth and Mortals, including Advanced Pet Vouchers and Wrathwing Vouchers.
Additional Information:
Try out Legacy of Discord – Furious Wings by visiting the following link:
→http://lod.gtarcade.com/
For the latest news and updates, follow Legacy of Discord – Furious Wings at
→
https://www.facebook.com/LegacyOfDiscordFW
and check out the forums at:
→
http://community.gtarcade.com/forum.php?gid=3098
Share to: