New Update and Quick Blitz
Legacy of Discord's latest update is bringing some new features to improve player experience. Check the Daily Quests panel for Quick Blitz and Retrieve. Quick Blitz makes Blitzing dungeons easier than ever, while Retrieve lets you recover missed rewards from the previous day for free! Read on to learn more!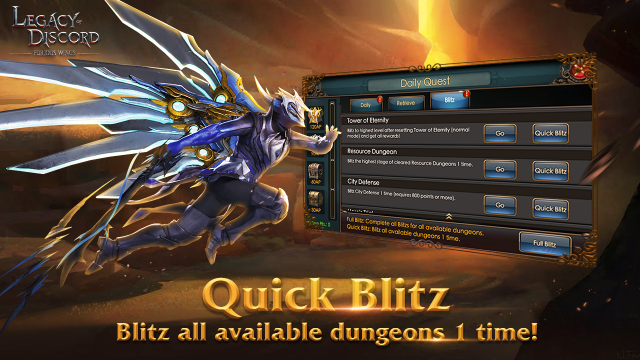 Update Content:
- Quick Blitz and Full Blitz
- Retrieve
Update Time:
03:00-05:00 June 30th EST
15:00-17:00 June 30th HKT
09:00-11:00 June 30th EU
Quick Blitz and Full Blitz
It can be time consuming to Blitz dungeons one by one, but with the new Quick Blitz feature, you can Blitz all available dungeons one time with one tap. Once you use up your Blitz attempts for an event, the Quick Blitz button will change to "Reset". The Full Blitz feature makes things even easier by letting you use all your Blitz attempts for all available dungeons with one tap.
Reward:
- Blitz to highest level after resetting Tower of Eternity (normal mode) and get all rewards!
- Blitz highest level after resetting personal Wing Realm dungeon and get all rewards.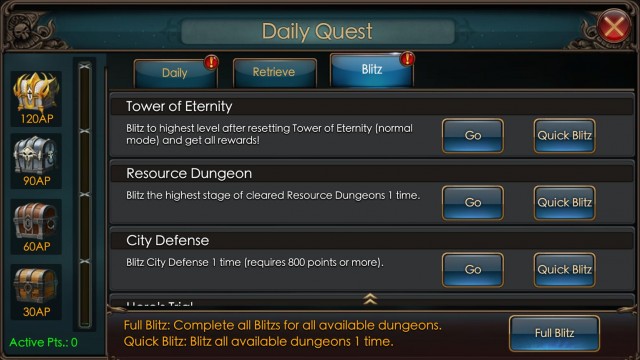 There are now two methods to retrieve your missed event rewards! How many resources you can retrieve is based on how many events you missed from the previous day. Free Retrieve will recover a portion of your missed event rewards from all retrievable events at no cost, while Premium Retrieve requires Diamonds but will recover 100% of the missed rewards from all retrievable events! Monthly Members can use Premium Retrieve for free.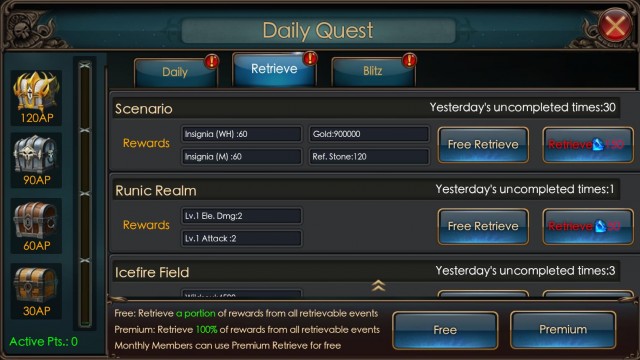 More features and content are coming to Legacy of Discord so please stay tuned!
Additional Information:
Try out Legacy of Discord – Furious Wings by visiting the following link: →
http://lod.gtarcade.com/
For the latest news and updates, follow Legacy of Discord – Furious Wings at
→
https://www.facebook.com/LegacyOfDiscordFW
and check out the forums at:
→
http://community.gtarcade.com/forum.php?gid=3098
Share to: